Attorney Profiles
Michael L. Fell – Attorney
Michael L. Fell is a dedicated and passionate defense attorney with a strong background in criminal law forged during his tenure as an Orange County Senior Deputy District Attorney. While an Orange County prosecutor for over 18 years, Mr. Fell handled many high profile cases and prosecuted various criminal offenses including, but not limited to: murder, arson, gang cases, sexual offenses, and organized crime. He also served as a Supervising Prosecutor with the Orange County Juvenile Court.
During his time with the OCDA's Office, Mr. Fell was recognized for his efforts with the prestigious Ambassador of Peace Award from the Violence Prevention Coalition of Orange County in 2003. Mr. Fell has also received accolades and awards from Mothers Against Drunk Driving (MADD), Community Services Program (CSP)/Victim Witness of Orange County and the Constitutional Rights Foundation of Orange County.
After leaving the DA's Office, Mr. Fell spent two years as the California Senior Trial Counsel for a civil law firm where he negotiated and litigated multi-million dollar civil cases. He left the civil firm in 2009 to open his own practice–Law Office of Michael L. Fell, A Professional Corporation—where he concentrates on representing individuals accused of various criminal offenses. He is now a California Board Certified Criminal Law Specialist.
Thanks to his years working as a top prosecutor with the Orange County DA's Office, Mr. Fell knows how cases are prosecuted by his former office and he understands the evidence needed to file charges against those being accused or arrested. Many times, he is able to speak to DAs while they are reviewing the police reports written by the arresting officer and avoid charges being filed.
Mr. Fell is well known as a passionate proponent of "creative sentencing." Because he feels that jail is seldom the appropriate punishment for his clients, he is very proactive in negotiating with DAs in resolving his clients' cases for dispositions other than incarceration whenever possible.
Mr. Fell has been publicly noted for his exceptional criminal defense representation in a variety of ways: He has been selected by OC Metro Magazine for the last three years as one of Orange County's "Top Attorneys" in criminal defense and has been recognized as a "Superb Rated Attorney" with a 10.0/10.0 rating by Avvo.com, a national attorney evaluation and information website.
Mark Geller – Attorney
For the past 26 years Mark Geller has been a prosecutor with the Orange County District Attorney's Office, retiring in January 2022 as a Senior Deputy DA. As a prosecutor Mr. Geller completed close to 150 jury trials for crimes including Domestic Violence, Sexual Assault, and Gang Homicide, to name a few. Twice he was chosen prosecutor of the year by his peers and received many accolades throughout his distinguished career including awards from Mother Against Drunk Drivers and CSP (a victim's advocate group). For the last 6 years he has worked as the sole Domestic Violence (DV) felony prosecutor for all of South Orange County stretching from Irvine to San Clemente. While he has developed relationships with every police agency in the County, his recent focus on DV leaves him uniquely situated to assist both victims and those accused with navigating the complex criminal justice system associated with Domestic Violence. His vast experience and very recent intimate knowledge of the inner workings of the DA's office provide any potential client with the certainty that their case will be handled in the most beneficial way to ensure the best possible result.
Michelle L. Tran - Attorney
Michelle L. Tran graduated from the University of California, Irvine with a double major in Political Science and Criminology, Law, and Society. She received her J.D. from Chapman University School of Law. During her law school career, she was selected as a judicial law clerk for Justice William F. Rylaarsdam in the California Court of Appeal and acted as Senior Editor of Chapman University's Nexus Journal of Law and Public Policy.
Ms. Tran practices family law matters and her cases are 100% devoted to litigation. She has over 200 hours of family law training and is passionate about her work. She handles all family law matters including dissolutions, legal separation, annulments, child custody/visitation, spousal support, division of marital property, child support orders and arrears, pre-marital and post-nuptial agreements, mediation, enforcement, paternity, domestic violence matters, and modifications.
Ms. Tran understands that family law matters are extremely emotional and can be a difficult time for both parties. She is devoted to providing compassionate, fair, and effective representation to those going through this challenging time.
Ms. Tran is actively involved with the Orange County legal community. She serves as the President of the Orange County Women Lawyers Association (OCWLA) and has been on the Board of Directors of the organization since 2011. She has also served on the Board of Directors for the Orange County Asian American Bar Association (OCAABA) from 2011-2016.
Previously, Ms. Tran served on the board of the Orange County Bar Association and acted as the Young Lawyers Division Chair in 2013. She has also been active in the Orange County Trial Lawyers Association and the Orange County Bar Association's Family Law Section and Appellate Law Section. As a dynamic member of the Orange County legal community, Ms. Tran continues to give back to the community and stay involved.
In her spare time, Michelle enjoys cooking and spending time with her family and friends. She is also an avid Green Bay Packers fan and enjoys attending sporting events.
Rita Liu - Attorney
Rita Liu graduated from the University of California, Irvine, where she obtained her Bachelor of Arts degree in Criminology, Law, and Society and earned her Juris Doctor from Western State University, College of Law, Fullerton, CA where she received the Criminal Law Certificate and Public Service Certificate. During law school, Ms. Liu clerked for the Orange County Public Defender's Office, felony panel. Ms. Liu was also a volunteer attorney for the Legal Aid Society of Orange County assisting individuals with their family law matters. Her volunteer work and personal experience in the area of family law ignited her passion to work exclusively in this field.
Ms. Liu focuses her practice on all areas of Family Law. Ms. Liu is compassionate and understands the difficulties in navigating any family law case. She is dedicated to providing each of her clients with individualized attention, helping them through this difficult time. Ms. Liu is a strong and effective advocate in the courtroom but is also solution-focused.
Ms. Liu is Chinese-American and speaks conversational Mandarin Chinese. She is actively involved in the Orange County and Los Angeles County legal community and is an active member of the Orange County Bar Association's Family Law Section and Long Beach Bar Association's Family Law Section.
Ms. Liu is an avid dog lover, especially miniature Schnauzers. When not advocating for her clients, Ms. Liu enjoys the outdoors, music, traveling, searching for the next food adventure, and spending time with her family and friends.
Shy Rous'e – Attorney
Shy Rous'e graduated from Lane College, where she obtained her Bachelor of Science in Business and earned her Juris Doctor from Charlotte School of Law. During law school, Ms. Rous'e clerked for the Honorable Marguerite Downing at the Superior Court of Los Angeles Dependency Court. Ms. Rous'e was also a dedicated member of the formerly known Proboknow, an organization dedicated to closing the gap to access for justice. These experiences ignited and furthered her passion for family law. Since becoming a member of the Bar, Ms. Rous'e has focused exclusively on family law.
Ms. Rous'e focuses her practice in all areas of Family Law. She provides an interpersonal and comfortable relationship with clients while maintaining a vigorous aim to reach client objectives. Ms. Rous'e has an innate ability to provide clients with ease and reassurance as they go through this often challenging process. Ms. Rous'e is a zealous advocate and settlement oriented.
Ms. Rous'e is actively involved in the Orange County and Los Angeles County legal community. She is an active member of the Orange County Bar Association and Los Angeles County Bar Association.
Ms. Rous'e loves spending time with her family, traveling, and being outdoors.
Neeta Patel – Of Counsel
Neeta Patel is in her tenth year of practice as a California licensed attorney. With ten years of experience in Family Law, she has extensive knowledge and expertise with issues of child custody and visitation, child support, spousal support, domestic violence, and property division issues.
Neeta provides detailed research, strategy and review for all types of family law cases, from the initial consultation, through to trial. She works closely with the attorneys and staff at the firm to assess the facts, documents and evidence and provide assistance on all phases of a case. Whether it be initial issues of support, domestic violence, or long term solutions to issues, Neeta applies her experience to ensuring the best possible argument and results for our clients. She specialized in preparing a varying range of family law issues for hearing, trial and settlement by methodically applying the law, the facts and gathering evidence needed.
Irena Nissanoff – Paralegal
Raised in Huntington Beach, Ms. Nissanoff attended Cal State Fullerton and graduated with a Bachelor of Arts in Criminal Justice and a minor in Political Science. She then attended Platt College where she obtained her paralegal certification (Associate of Arts in Paralegal Studies). Prior to coming to work for the Law Office of Michael L. Fell, Ms. Nissanoff worked at a civil firm as a paralegal handling legal research, reviewing contracts, and preparing legal letters.
In 2010, Ms. Nissanoff joined the Law Office of Michael L. Fell, assisting the attorneys with their duties and projects. She also supports client services, conducts legal research, and helps in the preparation of pleadings, declarations, and motions. Ms. Nissanoff also prepares documents for filing with the court, organizes case files, and manages the daily operations of the firm.
Ms. Nissanoff speaks fluent Farsi and is a sworn Notary Public.
Baylee Hill – Paralegal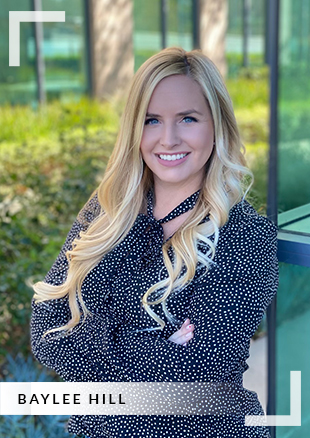 The Law Office of Michael L. Fell is proud to have Baylee Hill as a member of its team. After graduating from California State University, Chico with a degree in criminal justice, in 2013, Ms.Hill later received her paralegal degree from California State University, Long Beach.
From 2014 through 2021, Ms. Hill worked in a civil litigation firm. After earning her paralegal degree in 2018, she took on additional responsibilities of handling case management, trial preparation and legal research for the firm. Ms. Hill managed multiple attorney calendars ensuring court deadlines were met and drafted pleadings and legal correspondences as well.
In 2022, Ms. Hill came to the law firm of Michael L. Fell where she has reconnected with her passion of working in the criminal justice arena. She interacts directly with clients on a constant basis and is able to help them in all aspects of their criminal case, offering professional and compassionate assistance.
When she is not working on criminal cases, she enjoys spending time with her family and rooting for the Los Angeles Angels of Anaheim!
Charles Cobb - Paralegal
Charles has worked as a paralegal for 5 years and exclusively for the firm in family law since 2020. Charles graduated from North Carolina Central University, cum laude, with a Bachelor's degree in Political Science and a minor in History. In 2015, he graduated from Charlotte School of Law.
Charles uses his multitasking skills and customer service experience to help families in transition by providing detailed support to the attorneys and their clients. From complex litigation cases to simple uncontested divorces, he is involved from beginning to end. Charles assists clients by managing the intake process, providing regular contact and updates, maintaining the case calendar and deadlines, and drafting pleadings and letters. He also maintains the client case file and is integral in preparing for mediations, hearings, and trials.
A true native of New Bern, North Carolina, Charles enjoys traveling, spending time with his son, and living in his beachfront community.